All our professionals at Los Gatos Dental Specialists maintain the highest levels of accreditation and pursue ongoing education to stay abreast of the latest trends in dentistry.
Dr. Lawrence Puccinelli Jr.
graduated from Georgetown in 1989 with a degree in Biological Sciences. He then attended Dental School at University of Pacific where he graduated in 1994. Finally, he attended USC where he graduated in 2000 with his certificate in Endodontics.
Dr Puccinelli is available Monday thru Thursday for any Endodontic related consultations including: Root Canals and Re-Treatments. He does not do apicoectomy procedures.
Dr. Larry Puccinelli-Endo Referral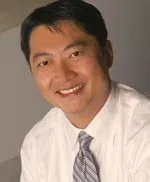 Dr. Peter Lyu
was born in Seoul, South Korea. In 1999, he graduated from the Loma Linda University School of Dentistry with Honors. Soon after graduating, he moved to Lexington, KY to start his 6-year residency training at the University of Kentucky, Chandler Medical Center. He enjoys the interaction with future dentists at the University of Pacific, School of Dentistry as a part time Assistant Clinical Professor.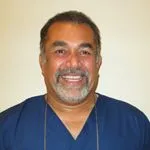 Dr. Siamak Madani is a specialist in the fields of periodontics and dental implants. He completed both his dental school training and specialty program at the University of Pennsylvania in Philadelphia, PA. Upon graduating he moved to the bay area and has been in practice here since 1993. Dr. Madani is a member of the Academy of Osseointegration and has been involved with dental implants for many years. He speaks fluent English, French and Farsi and has degrees in Microbiology, History, French Language and Business Administration. His interests include skiing, soccer, camping and hiking.
Dr. Tina Jung was raised in Southern California. She received her Certificate in Periodontics and Master's Degree in Oral and Craniofacial Sciences from UCSF. Prior to her training in Periodontics, Dr. Jung received her Doctorate of Dental Surgery degree from Columbia University, and Bachelor of Science degree in Psychobiology at UCLA. She has extensive training in the full scope of periodontal and implant surgery, with a particular interest in bony and soft tissue regeneration, dental implants, treatment of periodontitis, and cosmetic periodontal surgery.
She has a strong commitment to volunteer and community service and is an active member of the American Academy of Periodontology, Academy of Osseointegration, California Society of Periodontists, California Dental Association, and American Dental Association.
Dr. Stephan Yoon is a board certified Orthodontist, who loves seeing his patients become healthier and happier with confident and beautiful smiles. He received his BA in Molecular Cell Biology from the University of California, Berkeley, where he was awarded numerous scholarships including the I.L. Chiakoff Award in Neurobiology. After graduating, he moved to the east coast to complete his dental training at the Harvard School of Dental Medicine. Since then, Dr. Yoon returned to the bay area, which he calls home, and obtained his MS in Oral and Craniofacial Sciences and orthodontic certificate from the University of California, San Francisco (UCSF). Dr. Yoon has a deep commitment for volunteering, and has participated on dental and orphanage mission trips in Honduras and Guatemala.
‪Dr. Yoon is certified Invisalign provider and an active member of several professional organizations including the American Association of Orthodontics and American Dental Association.